Welcome
Hello and welcome to the official website of Perth-based pianist, composer and bandleader Ben Matthews! This is the place to be if you would like to learn a little about myself, perhaps organise some live music for a function,  listen to some of my compositions, check out some photos, or just to get in touch.  I will also keep this space updated with any exciting music-related news.
To hear my original works for piano or various jazz ensembles, head to the "Compositions" section.  For corporate and wedding jazz band ensembles, have a listen at the "Band Hire" section.  Enjoy your stay!
-Ben
News

:: Rebel Cops Game Soundtrack Released
Earlier this year (2019) I was involved with writing and recording of the soundrack to Weappy / ThQ Nordic's release Rebel Cops. You can listen to the full soundtrack here!
:: WAM Nomination for Best Keys/Synth Player
I found out a few days ago that I have been nominated for a WAM 2019 award in the Best Keys/Synth category! You can read more about it here.
:: Soulmination Single Released
A few weeks ago I was helping to record some rhodes and synth parts to Perth-based Neosoul group Soulmination's latest single Heads In The Sand which has just been released!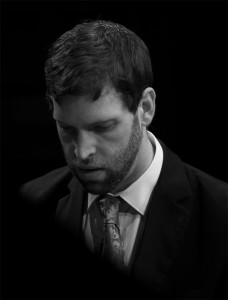 Biography
After nearly a decade performing as both a sideman and bandleader with some of Australia's most illustrious musicians, jazz pianist and contemporary keyboardist Ben Matthews turned his focus to composition in late 2015. In 2016, he wrote and recorded the following projects: an original soundtrack to THQ Nordic's game 'This Is The Police'; an original jazz/instrumental neo-soul double-CD release, 'LiveWyre'; a collaborative E.P. of contemporary ballads with vocalist Edwina Masson entitled 'An Open Letter of Imperfections'; a seven track, entirely improvised solo piano album, 'My Story'; music for the short film 'Lightbulb'; and two improvised solo piano singles, 'Indulge in a Daydream' and 'Uncertain Times'. Over the years, three of Ben's compositions have been nominated for Western Australian Music (WAM) Song of the Year awards (2011, 2015, 2016).
Current Direction
My current aspiration is to create honest and emotional music that balances creativity and accessibility.  With this in mind, I am aiming to:

-Strive for mastery as a pianist and composer through personal exploration and formal tuition from local and touring mentors.

-Develop and share my work as a solo improviser, drawing influence from modern jazz greats (such as Herbie Hancock, Chick Corea, Hiromi Uehara and Keith Jarrett), and filmcomposers (such as John Williams, Joe Hisaishi, Ryuichi Sakamoto).

-Build a portfolio of compositions and arrangements for performance and publishing by blending stylistic qualities from the jazz, latin, r'n'b, film score, ambient and fusion genres in the hopes to produce an original, refined and unique style of music.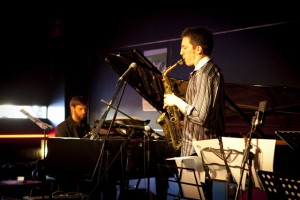 "I have used Ben on many occasions for private parties as well as corporate functions. Ben and his colleagues are excellent musicians, they play to the specifications of the clients and are extremely professional, and flexible for all different functions."
-Wendy, Director of Event Social Planners
"Ben Matthews and his incredible band brought a unique ambience to our event. Booking these guys was a total win, and I will be using them again.  They were punctual, intuitive and made the Mandurah Performing Arts Centre sing.  The stall holders said that while the music played they had fantastic sales! That was what it was all about at the Swell Day Out. I would like to thank you all for putting the final touches on the perfect vibe for the event!" 
-Toni Gordon, Left Coast Australia
Ben Matthews

Ensembles

Treat your guests to some live jazz with a band tailored to suit any occasion. Ben Matthews Ensembles combines the talent of Australia's in-demand jazz musicians to provide an atmosphere of warmth and class at private functions, weddings and corporate events. Below are some examples of some of our acts, accompanied by live recordings of each. To discuss your function needs, please get in touch with me at [email protected].

BMSolo 

Piano 

(listen/watch)

Providing ambience of a relaxing and intimate nature, Ben's solo piano sound is a contemplative blend of jazz (Herbie Hancock, Chick Corea, Hiromi Uehara), classical (Ravel, Chopin, Ryuichi Sakamoto) and contemporary soundtrack music (Hans Zimmer, Nobuo Uematsu, Joe Hisaishi).

BMDuo 

Piano/Bass or Piano/Saxophone (

listen

)

The instrumental jazz duo or trio provides something a little louder and a little livelier, and is reminiscent of more traditional instrumental jazz music, utilising repertoire from the Great American Songbook.  Inviting a horn player (saxophone or trumpet) or a bassist to join the piano allows for music best suited to medium sized venues.

For the duo dynamic, adding the upright bass provides a deeper and warmer sound. Adding a horn is ideal for cutting through louder venues, ensuring the music is comfortably audible amongst background noise and chatter.

BMTrio 

Piano/Upright Bass/Drum Kit (

listen

)

Drawing influence from the likes of Oscar Peterson, Brad Mehldau and Bill Evans' iconic jazz ensembles, this is most popular ensemble experience. The jazz trio format offers a versatile and dynamic sound and is suitable for any occasion or setting.

BMQuartet 

Piano/Upright Bass/Drum Kit/Saxophone (

listen

)

Creative, energetic and modern – the instrumental quartet features the engine room of the jazz trio with some extra punch from the sax'.

.